Cenexi in a nutshell
Cenexi is a French CDMO expert in sterile products, and partner of innovative biotechs.
A CDMO expertise since 2004
Since it was created in 2004, the Cenexi Group has been a subcontractor for the pharmaceutical industry specializing in the formulation, development, manufacture, and filling of pharmaceutical products (CDMO).
This French company is positioned on the very active international market for drugs with major therapeutic indications, drawing on its spirit of innovation and its extensive expertise in the manufacture and development of products. It has strong expertise in the handling of specific substances: narcotics and psychotropics, high potent products (allergens, hormones, oncology), and biological products (monoclonal antibodies, antibody-drug conjugates and peptides). And it aims to position itself more and more in the manufacture of biological drugs.
Thanks to its 4 production sites – three of which are in France and one is in Belgium – the Group has production capacities for various pharmaceutical forms:
sterile liquids (liquid and freeze-dried products in vials, ampoules, pre-filled syringes)
non-sterile liquids and pastes (creams, ointments, syrups, lotions, drops)
solids (tablets, capsules, sugar-coated tablets)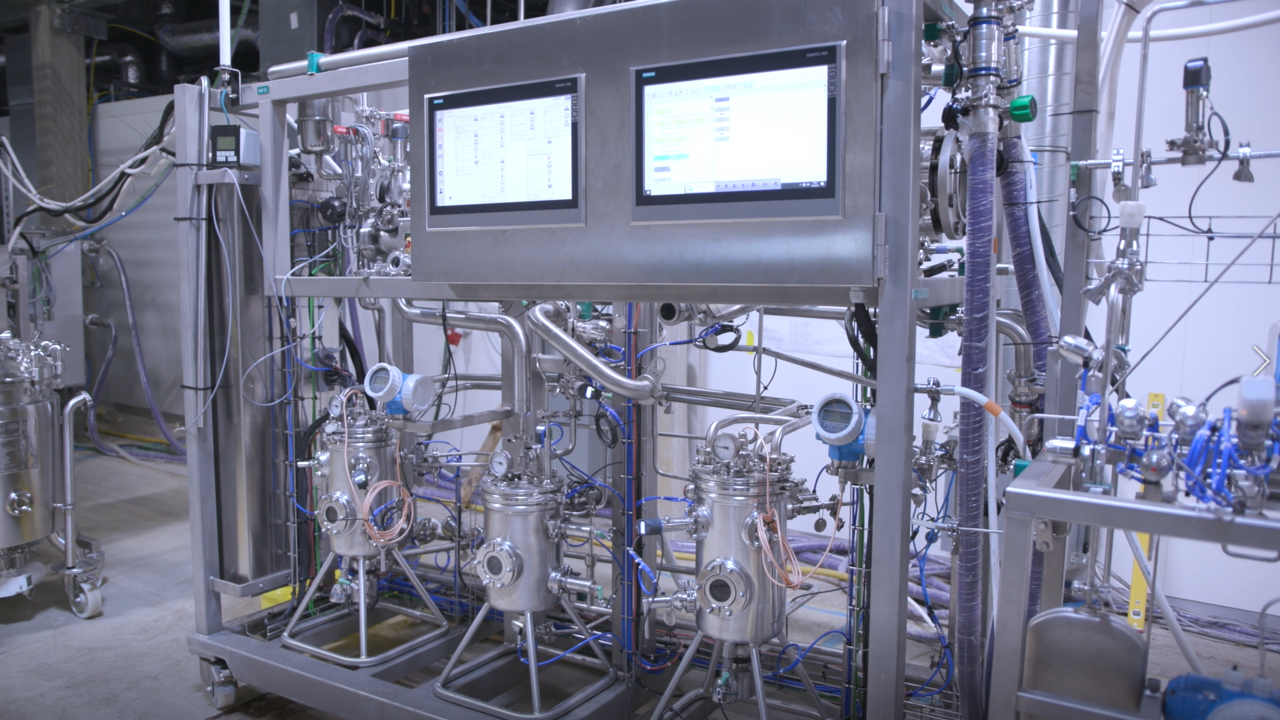 In addition to its industrial-scale drug manufacturing and packaging capabilities, Cenexi offers its customers regulatory and logistics services upstream of manufacturing and during drug development stages as well as downstream regardless of whether the products to be manufactured on Cenexi sites are experimental or already on the market.
While most of the volumes manufactured are commercial batches of classic originators or generics, Cenexi is positioned as the preferred partner of innovative biotechs to provide patients with the most innovative therapies.
Finally, the Group is a European leader in the manufacture of sterile and injectable pharmaceutical products (70% of its current turnover, 80% in the next 3 or 4 years) knowing that today, 90% of the molecules in phase III are in the sterile and injectable field.
Cenexi Services: supporting customers in all phases of their projects
Through Cenexi Services, an entity employing 110 experts*, Cenexi supports its customers in all phases of their projects, from the early stage (phases I, II, and III) to mass production and the commercial phase, with a one stop-shop service:
Formulation: development of all the steps necessary to validate the manufacturing process, from the quality of the active ingredients to the choice of excipients
Analytical development
Manufacture of product batches, from pre-formulation to clinical trials
Regulatory support
Industrial transfer
> Click here to learn more about Cenexi Services.
* Figure as of January 1, 2023.
ENVIRONMENT
Aware of the current and future environmental challenges, Cenexi has been committed to the environment since 2012 and as by obtaining ISO 14001 certification for its Fontenay-sous-Bois site.
In order to meet the requirements of its customers and stakeholders, Cenexi has implemented a proactive and comprehensive Environmental Management System to identify, assess and significantly reduce its environmental impacts.
As a CDMO, Cenexi bears a strong environmental responsibility that can impact not only its own activities, but also those of its customers.
Therefore, Cenexi is continuously working to reinforce its environmental commitment by getting all of its employees involved and by training them. Everyone, at his or her level, can actively contribute to the improvement of this Management System.
Through this environmental policy and its ISO 14001 certification, Cenexi is actively participating in the protection of the environment for the benefit of present and future generations.
Our key figures
3 in France in Fontenay-sous-Bois (Val-de-Marne), Hérouville-Saint-Clair (Calvados) and Osny (Val-d'Oise); and 1 in Belgium, in Braine-l'Alleud (Brabant wallon)
GMP-certified clean rooms
for the production of early development phase batches and clinical batches
registered countries worldwide
thanks to the inspection and approval of all our production sites by the main international regulatory authorities (ANSM, FDA, ANVISA, etc.)
of all sizes (Big Pharma, Middle Pharma, virtual companies, generics, licensing generics, small laboratories, biotechs)
invested over the past five years in state-of-the-art equipment
units of total capacity for sterile products
Our history
2022
New blister machine for prefilled syringes enters into service on the Braine-l'Alleud site.
2021
An ampoule filling line enters into service on the Hérouville-Saint-Clair site.
2020
Christophe Durand is appointed CEO of Cenexi. He gives new impetus to the Group by pursuing development in sterile injectables while positioning the Group on innovative biotechs developing biological products, among other things.
2019
A new vial line enters into service in Hérouville.
2018
A new pre-filled syringe filling workshop is installed in Braine-l'Alleud. It is located in a new aseptic complex dedicated to this type of production, alongside a formulation area for highly active products and an equipment preparation and autoclaving room.
2017
Cenexi acquires the Hérouville-Saint Clair site located near Caen, Normandy. Specializing in the manufacture and filling of sterile products, such as syringes, vials, and ampoules, the site also manufactures creams, ointments, lotions, syrups, and drops.
2012
Cenexi acquires Thissen Laboratoires's production site in Braine-l'Alleud, Belgium. This site manufactures sterile oncology products in vials of freeze-dried products and pre-filled syringes.
2011
Cenexi buys a factory in Osny, Val-d'Oise, which only manufactures solid hormonal forms (tablets and capsules). The product transfer and pharmaceutical development services merge to create a new entity called Cenexi Services. It focuses on the pharmaceutical development of its customers.
2008
Cenexi becomes a completely independent company. The Fontenay site focuses on the production of injectable ampoules, tablets, capsules, syrups, and suppositories.
2004
Cenexi is created in Fontenay-sous-Bois, near Paris, from a former production site of the Roche Group, a center of excellence in the manufacture of injectable ampoules. Cenexi is a Group subsidiary dedicated to subcontracted manufacturing.